3RD RUNNER UP - GOLDEN CHICKEN STEW by Mick Reasor (mreas)

The Mountie speaks volumes about what you are about to receive! It is bold, no nonsense, forget the frills and get to the heart of the dish. You want a good hearty, wholesome meal? Well, let's get straight on with the job. That is perfect because it's exactly what we want the majority of the time. Something quick and easy, but delicious in flavor and nutritious, healthy ingredients. Good, honest fare - it's all there in the expression on the Mountie's face. The Rockies may crumble, Gibraltar may tumble but Mick's Golden Chicken Stew will always hold its own – without a tremor!




Mick's Golden Chicken Stew



2 Chicken breasts, boned, skinned, cubed
4 Potatoes
4 Carrots
2 Stalks Celery
1 Onion, chopped
8 oz Mushrooms, sliced
1/3 cup honey
1 1/2 cups chicken stock or broth
1/2 cup flour
1/2 cup Olive Oil
2 Tbs Worcestershire sauce
Salt
Pepper
Paprika

Cut potatoes, carrots, and celery into 1 inch pieces.
Season flour with salt, pepper, and paprika.
Dredge chicken cubes in flour mixture.
Heat oil in heavy skillet and brown chicken over medium heat.
Add onions, potatoes, carrots, celery, and mushrooms in order. Saute' each for a few minutes before adding the next vegetable.
Lower heat, cover and cook, stirring occasionally, for 20 minutes or until vegetables are tender.
Add chicken stock, honey and Worcestershire.
Stir gently until boiling.
Cover and simmer for 10 minutes.





Newt's Eye-talian Chicken

4 Boneless chicken breasts
2 Eggs
8 oz. Mushrooms, sliced
Seasoned Italian bread crumbs
1 Tablespoon Parsley
1/3 Cup Butter
1/2 Chicken Broth
1 pound Shredded Jack Cheese

Cut chicken into chunks.
Marinate chicken in beaten eggs at least four hours.
Coat chicken with bread crumbs and brown in melted butter.
Place chicken in baking dish. Add sliced mushrooms and sprinkle with parsley.
Top with shredded cheese.
Add chicken broth.
Cover and bake at 325 for 40 to 60 minutes.
Serve with fettucine
Easily multiplied to serve large crowds.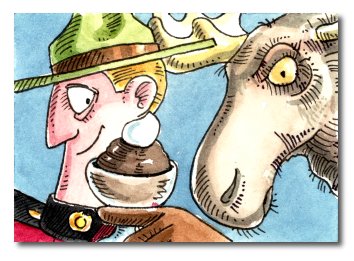 Mountie Moose Mousse


16 oz Whipping cream
8 oz Milk chocolate
8 oz Cream Cheese (softened)
1 Cup Powdered (Confectioners) Sugar
1 tsp Vanilla extract
1/2 tsp salt

Melt Chocolate in double boiler.
Mix cream cheese, salt, vanilla and 1/2 cup sugar until smooth.
Mix Whipping cream with 1/2 cup sugar until stiff. Reserve half for garnish.
Stir melted chocolate into cream cheese mixture then fold in whipped cream until blended.
Spoon into individual sherbet dishes or flutes and chill.
Top with reserved whipped cream.

Also makes a "better than French silk" pie filling.




Waddie's Quick & Sticky Corn



6 cups popcorn, popped
1 cup peanuts
1 cup brown sugar
1/2 cup butter
1/2 cup corn syrup
1 tsp vanilla

Combine brown sugar, butter and corn syrup in sauce pan.
Heat over medium heat, stirring occasionally, until smooth and looks like it just might boil but hasn't yet.
Remove from heat, stir in vanilla and pour over popcorn and peanuts in large mixing bowl.
Stir until coated.
Consume.